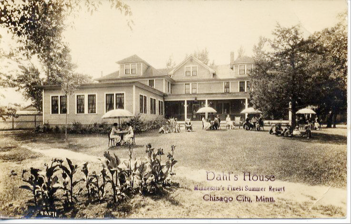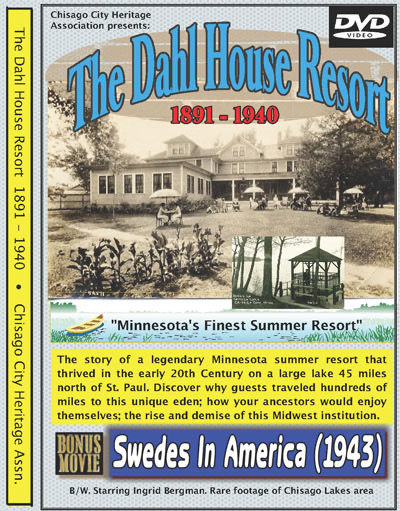 All that remains of the legendary Dahl House – "Minnesota's Finest Summer Resort" – are a few cabins, some photos, relics and two historic pillars on Chisago City's Old Town Road. Recently restored by the Chisago City Heritage Association, these venerable old friends remind passers-by of a glorious era in Chisago City's past when throngs would flock to this 20-acre haven on the water each summer. Host Frank Dahl created magic for his guests with a gifted penchant for entertaining. 
Subsequent owner Albert Johnson built a dance pavilion offshore on an island connected by boardwalk. Is that cool or what?  We're sure you'll enjoy this production put together by local resident Jack Doepke. Special thanks to contributors Paul Fredell, Paul Johnson, Geraldine Hallberg, Elizabeth Haan, the MN Historical Society and the Vernon Shoquist Collection . . . and thank you for supporting our efforts with your purchase of this DVD. Now, how about all those old photos & letters you have in your attic?   
Notes on bonus film:  "Swedes In America"  17:12 min
A Visit From Hollywood, Ingrid Bergman
During 1943 Robert Riskin (1897-1955), head of the motion picture division of the Office of War Information Overseas Branch began a series of propaganda films. This series was called "The American Scene". The first in that series was titled "Swedes in America." This documentary was nominated for an Oscar in 1944. It was directed by Irving Lerner and stars Swedish actress Ingrid Bergman as host. She travels from New York to Philadelphia and to Minnesota's Chisago Lakes Area in an effort to portray the comfortable assimilation that Swedes had found in America. 
The film was so well received overseas that the Brittish Ministry of Information ordered 400 copies of the film in October of 1943 to be shown in theaters even though it had nothing to do with Britain. The film had effectively portrayed the United States in a positive light at a time when war tensions were high and using Bergman, herself a Swede, was a public relations coup.
Included is rare footage of her visit to the area & vintage clips of a Chisago City, Lindstrom, Scandia, Center City and more. Her Chisago Lakes segments were shot at Glenwater Farm in Chisago City and on the streets of Lindstrom and Center City and Elim Lutheran Church in Scandia. This visit, during the height of WWII, was a highlight for the area not only because she was a Hollywood star, but also that she was Swedish as were a great many of the citizens of that time.
The April 6, 1943 of Look magazine ran a short article with pictures of her visit.
In 1950 her daughter Pia Lindström (1938- ) also visited Glenwater Farm and spent the summer.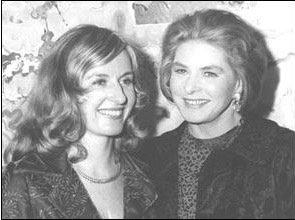 Pia and Ingrid
TOTAL DISK RUNNING TIME:  40:25 min  (footage added to original 38 min. DVD)